An Expert Behind the Brand
David Uribe is a professional licensed Barber and Cosmetologist with numerous years of experience within the Beauty industry. Additionally, he is an Author, Speaker, Business owner, former Barber Program Instructor and Regional Director. He possesses a degree in Business Administration and an ITEC certification that allows him to cut and style hair in more than 41 countries.
He has been featured in the Miami Herald newspaper, NBC 6 and Telemundo 51 TV channels apart from winning several hair competitions. He has received numerous awards for his knowledge and contribution to the industry.
David is the proud owner of a renowned barbershop called Prestigious Image, which, has been voted best in Miami by Men's Hairstyle Trends and prides on the stellar service his team provide their high level professional and celebrity clientele. He has a barber book called- What Now? which teaches barbers how they can grow and make more money within the barber/ beauty industry.
Lastly, he has launched a brand called Luxsive that includes quality grooming products for men.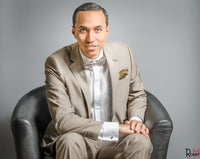 Behind the Name:
The origin of the name comes from joining two words:
Luxury + Exclusive
Luxury with exclusivity. The goal was to create an aspirational name aimed at the segment of male entrepreneurs who want a higher level of established standards.
Testimonials
I was tired of going to the airport and having the TSA take away my styling product from my carry-on bag because of its large size. However, with Luxsive I DO NOT have that problem! Both the Pomade and Clay have a size of 3.4 oz. which is TSA approved.  

Frank R.
After having my barber try the Luxsive Clay on my hair, I fell in love with the product. Additionally, with CO-VID I have been more aware of sanitation procedures and I really like how the Luxsive styling products have a spatula underneath the lid so that I can remove the product from the jar without contaminating the rest of the product. Good thinking!

Jason G.
I had been trying to find a pomade that didn't flake for a while and a friend recommend the Luxsive pomade. I can put it in the morning and later on in the day I can wet my hair and re-style it, comb it again and change my look without the flaky look. Great smell too!

Juan P.
I suffer from dry scalp, I read from the product description that the shampoo has tea-tree extract and is good for dry scalp (dandruff) and I decided to buy the product. Between the shampoo and conditioner, my dandruff has gone away. I can finally wear black shirts without stressing the flakes- my favorite!

Albert G.
I have a long beard and needed something that gave it shine and set the hair in place after combing it. I bought the Luxsive beard oil because of its size (3.38 oz.) and price ($20), that, the great smell and shine I get to my facial hair, is a win-win for me.

Robert M.
I hate shaving! I get irritation, razor bumps and razor burn so I decided to try the pre-shave oil as an extra layer of protection while shaving. I put the shaving cream on top of the oil and my razor glides through my face without the pulling and bleeding. After, my face is left smooth and irritation free. Who knew that preparing your face the right way can give you bump-free skin.

Joshua P.
My wife was complaining that my beard smelled bad so I started to research for products that would help with that. Prior to using the Luxsive beard wash, conditioner and beard oil, I was not using anything. Once I started using it, not only was my facial hair soft but my wife was happy that it was clean and smelling great. Try it to keep your lady happy!

Xavier P.
I was one that never used conditioner. I thought "I am a guy and the least products the better." I was wrong and my barber educated me about the matter. He explained how just using shampoo, you are stripping away the natural oils from the scalp and need to replace it with those of the conditioner. I use conditioner every time I wash my hair, I feel the difference. Thank you Sami for recommending Luxsive conditioner.

Chris D.
What I like from the Matte Clay is that it's not supper sticky like other products. It has a creamy consistency which allows me to distribute the product through my entire hair. Once it dries it leaves my hair with the right hold and matte look.

Michael O.