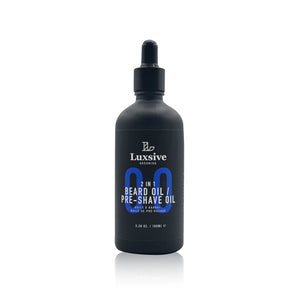 2 in 1 use.
1. Moisturizing beard oil: Helps hydrate, soften and gives shine to dull and dry looking facial hair. Also, hydrates the dry skin beneath the facial hair.
2. Pre-shave oil: Helps create a smooth surface or foundation for the shaving cream and will help the razor glide while shaving. Helps prevent razor burn and razor bumps/ irritation.
Directions- If used as a pre-shave oil, rub a small amount of oil on your cheeks, neck, chin and surrounding lip areas before applying the shaving cream. After, apply the shaving cream on top of the pre-shave oil and shave without applying too much pressure on the razor.
If used as a moisturizing beard oil, massage oil on the facial hair, make sure the skin underneath the skin also receives oil.
Warning- For external use only, do not ingest. Avoid contact with eyes. If this occurs, rinse eyes immediately with water. Keep out of reach of children. 
Ingredients: Dimethicone, Squalane, Cyclopentasiloxane, Dimethiconol, Macadamia Ternifolia Seed Oil, Ethylhexyl Palmitate, Simmondsia Chinensis (Jojoba) Seed Oil, Fragrance, Tocopherol
Animal Cruelty Free (Not tested on animals).