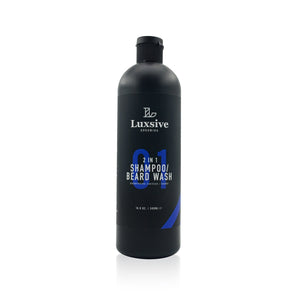 Sulfate/ Paraben free Shampoo that can be used on both the hair/ scalp as well as facial hair.
Excellent for dry scalp and skin (includes Zinc Pyrithione). Includes Tea-tree extract.
Directions- Rub a small amount of shampoo between your palms. Apply the shampoo to your scalp or facial hair using your fingertips and work it vigorously into your entire hair. Leave for at least one minute before washing. 
Warning- For external use only, do not ingest. Avoid contact with eyes. If this occurs, rinse eyes immediately with water. Keep out of reach of children.
Ingredients: Propylene Glycol, Camellia Extracts, Cocamidopropyl Betaine, Polydimethylsiloxane Glycerin, Ethylene Glycol Distearate, Tea Tree Extract, Fragrance, Methylisothiazolinone, Tridecyl Salicylate, Zinc Pyrithione  

Animal Cruelty Free (Not tested on animals).